Joey - Greenwood Greeter (July 2005 - June 2020)
Joey has been our official greeter since 2006 when he was adopted from CAPS. He loves everyone that comes to the office in Greenwood.
Joey enjoys spending his days being carried around by staff members or lazing in the sun on the front counter. He can often be seen through the front window watching traffic go by.
Joeys hobbies include stealing cat toys that are for sale, drinking from the taps, (he does own a water fountain), and keeping staff company in the lunch room.
He lives strictly indoors but will often greet you at the front doors.
Joey crossed over the Rainbow Bridge June 2020 with all of his family here at Greenwood Animal Hospital present.

---
Chili - Greenwood "Nurse Cat" (Feb 2017 - Feb 2020)
Chili has been an inspiration to us all as he has taught us resilience and zest for life :) Chili came to us in February 2017 barely clinging onto life. Dr. Teresa and the team of vets at Greenwood Animal Hospital helped him to rally each day as we searched for his owner. No owner was to be found and for the longest time, he would not leave the kennel rooms of Greenwood Animal Hospital. He was so shy and scared of the world but knew he was very loved by everyone who worked here, those who rescued him and those who were cheering him on to survive all his challenges. He grew strong with that love and support and today, you will see him laying with patients as they recover from surgery or treatments and you will see him in the reception area on the chairs by the fireplace sometimes sitting in the lap of unsuspecting clients. He is an amazing little fella!

Chili crossed over the Rainbow Bridge February 2020 with all of his family here at Greenwood Animal Hospital present.
_______________________________________________________________________________________________________________________
Georgie - MVS Greeter Cat
Georgie has had an interesting life including spending time as a barn cat. Her hunting eyes got a little too big one winter and she tried to take on a snow plow! Needless to say, she lost that fight and came to the clinic to recover. During this time - she decided we were a pretty good bunch and she wanted to live with us! She has made the transition to an indoor cat like it was her idea...
Since adopting us, Georgie enjoys sitting on paper, playing with pens, and talking to clients.
---
Ruth McVicar - Veterinary Assistant/Office Manager

Ruth has always been following her love of animals. In 1990, she and Dr Teresa opened up Greenwood Animal Hospital. She has seen the practice go from 2 people to where it is today. Her love of animals prevails. Ruth helps with the running of both clinics, and can be seen in the book keeping office, or out in reception giving a helping hand.
Ruth currently caters to 2 cats Adella and Squeakers, whom she adopted from CAPS. She also sponsors another cat there as well.
In her spare time, Ruth enjoys playing soccer.
---
Kim Strickland - Practice Manager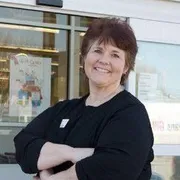 Kimberly joined the Greenwood Animal Hospital team in February 2016 as Veterinary Hospital Practice Manager. She is married to Mark and they have four daughters (Danielle, Morgan, Rachael and Mackenzie), two horses (LB and ABBA), a black lab named Elliott, a chocolate lab named Jake, a chocolate lab named Sissy, a boxer/pitbull mix named Brandi and a black cat named Pita. Kimberly loves her family and animals and is committed to their health and well-being.
Kimberly has over 25 years of sales and management experience having accumulated many awards over the duration of her career. Kim attended Success Business College in Truro, then Acadia University School of Business; she has taken courses at NSCC Kingstec and Truro campuses, HR Dynamics as well as becoming a Certified Sommelier in 2008. She is constantly learning, growing and looking for new challenges. She cannot wait to see how she can work with the team at Greenwood Animal Hospital to grow!
In her spare time, you will find Kimberly with her husband Mark and daughter Mackenzie on the open road around Nova Scotia on her purple Harley visiting all the little nooks, wineries and eateries NS has to offer or exploring trails with the horses or with the dogs at Miners Marsh, the rail trail and the beaches of NS.
---
Kailan Gough - Registered Veterinary Technician
I graduated from Dalhousie Agriculture campus in 2018 and came to the Annapolis Valley to work here at Greenwood Animal Hospital as soon as my exams were completed. I have always loved animals from rats, guinea pigs, rabbits, cats and dogs! I have a cat named Mister and two rats - Arrow and Robin. In my spare time I like to sing with choirs, play video games, play with my pets and hang out with my friends.
________________________________________________________________________________________________________________
Stephanie Trimm - Registered Veterinary Technician
I grew up in the Annapolis Valley where I have been surrounded by animals my whole life. In 2015 I went to Dalhousie Agriculture campus To pursue my lifelong wish to become a Veterinary Technician. After graduating in 2018 I came back home to start my career. I have always had a love for all animals, big and small. Ever since I was young I wanted to help as many of them as I can. I own a cat named Cinder and have 3 family pets. A golden retriever named Abby and two cats named Madrigal and Presley . In my spare time I like to read, draw, play video games, go for outdoor adventures, play with my pets and hang out with friends.
_______________________________________________________________________________________________________________________
Stephanie Hall - Registered Veterinary Technician

Stephanie graduated with her animal health technology diploma in 2005 from the Nova Scotia Agricultural College. Originally from Cape Breton she has spent time in Ottawa, Halifax, and Fredericton in small animal practices including emergency, orthopedics, and pocket pets. She loves learning new skills and techniques and is always reading up about new ways to make sure your pet is content and comfortable while at the clinic. She loves all aspects of being a technician but anesthesia and pain management is where she flourishes.
She is on the board of directors for the provincial association Eastern Veterinary Technician Association and also a board member for the national association Registered Technologists and Technicans of Canada.
She lives with her husband Matt, their son Jack, chocolate lab Higbee, and two cats Ed and Sandee.
When she is not working or volunteering for her associations Steph loves spending time with family and friends, hiking, camping, and reading.
---
Samantha Milligan - Registered Veterinary Technician
Samantha is one of the Registered Veterinary Technicians at Greenwood Animal Hospital. In 2016, she graduated with her Veterinary Technology diploma from the Dalhousie Agricultural Campus in Truro. After growing up in the beautiful Annapolis Valley, she decided to move back home to begin her lifelong passion for animals.
While she loves all the aspects of being a tech, some of her favourite skills are blood draws and IV catheter placement, nursing care and giving as many treats and cuddles as she can.
Sam has a soft spot for beagles and dachshunds, but of course loves every animal that comes though the doors. She has a beagle named Maggie, and a husky named Spike. If she has a moment, Sam also enjoys spending time with our clinic cats, Joey and Chili.
In her spare time, Sam enjoys reading, video games, playing with her dogs, and hanging out with her friends.
_______________________________________________________________________________________________________________________
Danielle Wood - Registered Veterinary Technician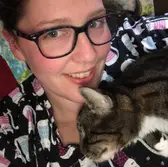 Danielle has always had a passion for animals from dogs, cats to horses and guinea pigs. If you don't find her at the barn you can find her playing board games with family and friends.
Danielle graduated from Dalhousie Agricultural Campus with her Bachelor's in 2014 and again for her veterinary technician degree in 2020.
She is currently owned and managed by a lovely, yet demanding, cat Moriarty.
_______________________________________________________________________________________________________________________
Jessica - Customer Service at Middleton Veterinary Services
****Under construction
---
Angela Welch - Large Animal Assistant
Angela Welch has been with Middleton Veterinary as Large Animal Assistant since March of 2013. She grew up locally in Greenwood, and attended post secondary in Calgary Alberta.
Angela is passionate about riding her horse, C.W., and also enjoys writing, camping and spending time with her 2 dogs Lola and June.
______________________________________________________________________________________________________________________
Janice Desfossés - Client Service Representative

Janice is one of our customer service representative and works in our Greenwood clinic. She is fluently bilingual and will make you feel at home during your visit. She is also one of our nutrition consultants.
Janice enjoys spending time with her furry family. Janice also teaches agility and enjoys going to competitions with her dogs.
_______________________________________________________________________________________________________________________

Amanda Spears - Groomer